This simple dairy free basil pesto recipe is straight to the point!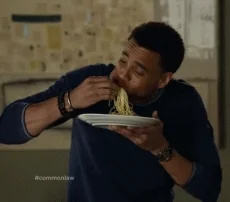 2-2.5 cups fresh Basil stems removed (if you have a basil plant be generous!)
A handful of parsley (stems removed), optional
4 tbsp pine nuts,
2 garlic cloves,
3.5-6 tbsp olive oil, (The bigger amount if using more basil. I like a good amount of oil in mine! plus it helps to process)
1-2 tbsp of lemon juice
sea salt
Place all ingredients in a food chopper, mini food processor, or the small bowl of a food processor (some blenders can do pesto, but careful to not turn it to green juice! Even with the food processor you don't want to just leave it running too long, but pulse it instead.). Pulse a few times stopping to scrape down the sides of every so often. Of course normally Parmesan is added and some vegans add Nutritional yeast, but I feel no need for either, its yummy as is!
Variations: instead of pine nuts, sunflower seeds, cashews or walnuts are often used too. Also a handful of spinach can be thrown in. The classic version is my favourite though.